Sage Ravyn Paw
From AmtWiki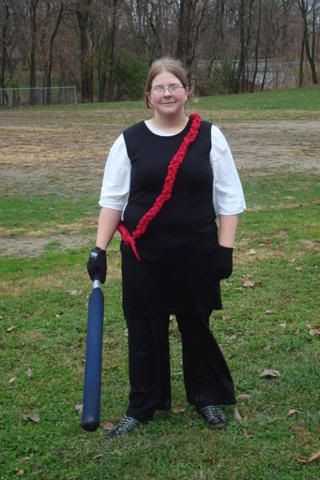 A Day at the Faire
Sage sees some guy with two tails on his belt and points him out to Crimson
Sage- "Excuse me, but can I ask why you have two tails?"
Guy- "You can never have too many tails."
The two talk for a while longer.
Conclusion: There are no cousins (Kitsune) at the Renaissance Faire
Biography
Is addicted to Amtgard thanks to Taver and loves Autumn Grove. She was one of the founding members of Autumn Grove. Sage enjoys playing as a support healer, but will also play barbar, if a healer is not needed. Her first Kingdom level event was on Saturday June 20th 2009 and she loved every minute of it(minus the burning sun and heat...and mud...lots of mud). Officially ended her reign as AG's first Regent in September 2009, but (for some crazy reason) she began again in March 2010. Sage was then introduced to Sky Harbor, which is now her home park.
Character History and stuff
From the journal of Sage Ravyn Paw To Vulpecula and anyone else who may be listening.
Traveling is about the adventure, but sometimes a body need not have weary feet in order to have adventure. I have found myself at a place called Sky Harbor, and I believe that I will rest my bones here for a time to see what new experiences this place has to offer and what new people there are to meet.
Affiliated Groups
Notable Accomplishments
More Information
She and her sister changed their last name to Paw
Makes BAD ASS cookies.
Finally has two tails and ears like she's suppose to
She refuses to sew anything using her demon-possessed sewing machine, so anything she sews is by hand.
She is actually older then the person who plays as her older sister.
Sage Ravyn Paw is a Kitsune.
---