Fog (Player)
From AmtWiki
"Poison Arrow!"
Biography
Fog learned of Amtgard through Reyna's son in 1996 while living in Azle, TX. With no local parks nearby Fog did not join Amtgard until Summer of 1998 at Morningwood Glen. He played the Archer class until his departure in 2000 to Minnesota.
Fog tried to contact the local group listed in Saint Paul known as Caer Sidhe. Unable to reach them; in 2002 he started a park called Northguard located in Lakeville, MN.
In 2003 Fog was called back to Texas for a family emergency and returned to Morningwood Glen for another year. During his absence his park in Lakeville, MN disbanded with several members forming a park in Saint Paul called Starmount. The following year a few additional players left from Northgard formed Mists of the Dawn in Lakevile, Minnesota near where Northguard played.
Fog played here for a while before taking a hiatus to do the college thing. After college he moved to China for a while before returning to Texas.
In December 2009 Fog started the household Emerald Guard to try and drive more players to the game.
Later in 2009 he crated a companion tool for the ORK and dubbed it "FORK". This tool promoted better record keeping on the ORK by allowing players to see who was inactive at a park. It also served as a tool to help gauge the activity of a park at a glance instead of having to click on every profile for a park on the ORK.
In 2010 a new version of the web app was created and labeled T.R.O.L.L. (The Recorded Online Lackadaisical Ledger) which included several new features including the date of the last time the park's PM logged in. The updated version also allowed for better use of the back button in the browser.
The TROLL became a well known tool among kingdom PMs and is used in the majority of the Amtgard kingdoms by park and kingdom level Prime Ministers alike.
In mundania Fog was married in March of 2010 and moved from the DFW area to Seguin, Tx. About a year later a park called Wolf's Glen was formed in Seguin and became Fog's home park.
In 2012 Fog added a new feature to the TROLL which showed the activity of kingdom knights. This is likely to be the last major update to the TROLL until after the ORK v3 is released. (Slotted for Dec 2012). The TROLL was entered into the CK Dragon Master in August of 2012 and received a mere 3.5 average score (should have picked an event that was heavy in PM judges) and later awarded a 1st order of the Smith at the 2012 summer midreign.
In 2017 after attending San Japan in San Antonio and participating in the Battle Pit offer fighting zone Fog got the itch to go to a local park and swing foam again. Since Wolf's Glen closed down the closest park was Traitor's Gate which is where he headed.
Affiliated Groups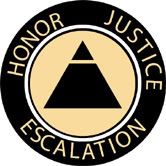 Notable Accomplishments
Lord -Given by Sir Alessandra 2003 at the end of two terms as Sheriff of Northguard.
ORK Admin/Developer
Additional Images
More Information
---